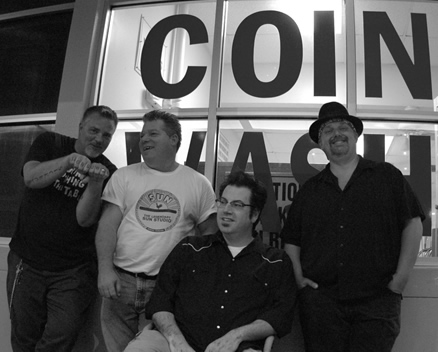 L-R: Chris Tocco, Steve "Barkin' Barney" Barnes, Rick Boucher, Todd Staudinger
Betty's Not a Vitamin is:
Chris Tocco: Vocals
Todd Staudinger: Guitar, Vocals
Rick Boucher: Drums, Vocals
Steve "Barkin' Barney" Barnes: Bass, Vocals
BNAV's original sound is a mix of all classic American music – Pop, Country, Rock, Punk and Rockabilly – served with the feel of a Memphis barbecue.
Founding members and songwriters Chris Tocco and Todd Staudinger are joined by long time drummer Rick Boucher and bassist/ songwriter Steve "Barkin' Barney" Barnes. They released their debut CD in January 2007. It is a 14 song compilation of original material with a power pop cover of the old Kenny Rogers hit Ruby (Don't Take Your Love to Town) thrown in for good measure.
The CD received extensive radio airplay nationwide on over 180 CMJ College radio stations and broke ground in several large Commercial Radio markets as well. One station in NY played 3 singles from the CD for 12 straight weeks! See the "News" page for more details.
BNAV tackles styles ranging from Power Pop, Rock and Acoustic, to Rockabilly and Surfer Rock. They've done all of this without losing touch with their very distinctive sound. A tight rhythm section, distinctive lead vocals, tons of guitars, all topped off with killer harmonies. It's fresh, classic American music at its best.
Their live show is a combination of their original material (they have a full one hour original set) and covers that encompass the spectrum of classic to modern rock. There are even some that are off the beaten path. They have years of performing experience in every venue size from clubs to concert stages as both a full electric and unplugged act. This versatility, combined with years of experience and professionalism makes them a crowd pleaser wherever they perform.
Click here to view their EPK for more detailed information!